Azidothymidine triphosphate
AZTTP, 3'-Deoxy-3'-Azidothymidine-5'-triphosphate, 3'-Azido-3'-deoxythymidine-5'-triphosphate, Zidovudine triphosphate
Azidothymidine triphosphate is supplied as the triethylammonium salt in aqueous solution with the amount and concentration written on the label. Aqueous solution is the most stable form for di and triphosphates. For a quotation for larger amounts please inquire. Orders can be placed online or by telephone.
Purity: 95+ %.
$88/1mg (1.1 micromole)
$405/5mg (5.5 micromole)
$745/10mg (11 micromole)
The 2D structure of the free acid form of Azidothymidine triphosphate (AZTTP) is: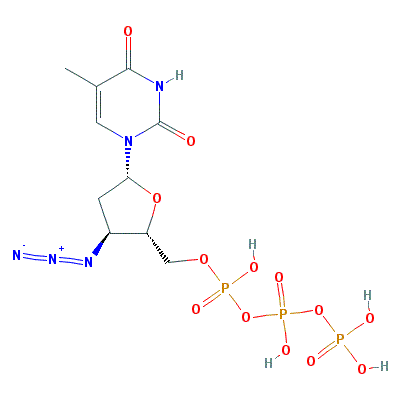 Selected references:
Nomura et al. Azidothymidine-triphosphate impairs mitochondrial dynamics by disrupting the quality control system. Redox Biol. 2017 Oct;13:407-417.
Chen et al. Biphasic elimination of tenofovir diphosphate and nonlinear pharmacokinetics of zidovudine triphosphate in a microdosing study. J Acquir Immune Defic Syndr. 2012 Dec 15;61(5):593-9.
Roucairol et al. Design, synthesis and studies of triphosphate analogues for the production of anti AZT-TP antibodies. Bioorg Med Chem Lett. 2010 Feb 1;20(3):987-90.
Aweeka et al. AIDS Clinical Trials Group 5092s Study Team. Pharmacokinetic evaluation of the effects of ribavirin on zidovudine triphosphate formation: ACTG 5092s Study Team. HIV Med. 2007 Jul;8(5):288-94. Erratum in: HIV Med. 2007 Sep;8(6):412.
Hillaireau et al. Hybrid polymer nanocapsules enhance in vitro delivery of azidothymidine-triphosphate to macrophages. J Control Release. 2006 Dec 1;116(3):346-52. Epub 2006 Oct 3.
Hillaireau et al. Encapsulation of antiviral nucleotide analogues azidothymidine-triphosphate and cidofovir in poly(iso-butylcyanoacrylate) nanocapsules. Int J Pharm. 2006 Oct 31;324(1):37-42. Epub 2006 Jul 10.
Meléndez et al. Lack of evidence for in vivo transformation of zidovudine triphosphate to stavudine triphosphate in human immunodeficiency virus-infected patients. Antimicrob Agents Chemother. 2006 Mar;50(3):835-40.
King et al. Quantitation of zidovudine triphosphate concentrations from human peripheral blood mononuclear cells by anion exchange solid phase extraction and liquid chromatography-tandem mass spectroscopy; an indirect quantitation methodology. J Chromatogr B Analyt Technol Biomed Life Sci. 2006 Feb 2;831(1-2):248-57. Epub 2006 Jan 10.
Akeb et al. The production and evaluation of antibodies for enzyme immunoassay of AZTTP. Nucleosides Nucleotides Nucleic Acids. 2001 Mar;20(3):243-50.
Fletcher et al. Zidovudine triphosphate and lamivudine triphosphate concentration-response relationships in HIV-infected persons. AIDS. 2000 Sep 29;14(14):2137-44.
Font et al. Determination of zidovudine triphosphate intracellular concentrations in peripheral blood mononuclear cells from human immunodeficiency virus-infected individuals by tandem mass spectrometry. Antimicrob Agents Chemother. 1999 Dec;43(12):2964-8.
Brossette et al. Synthesis of analogues of 5'-mono-, 5'-di-, and 5'-triphosphate-AZT for the development of specific enzyme immunoassay for monitoring of intracellular levels of AZT-MP, AZT-DP, and AZT-TP. Nucleosides Nucleotides. 1999 Apr-May;18(4-5):939-40.
Bloom et al. Azidothymidine triphosphate determination using micellar electrokinetic capillary chromatography. Cell Mol Biol (Noisy-le-grand). 1997 Nov;43(7):1051-5.
Elimadi et al. Differential effects of zidovudine and zidovudine triphosphate on mitochondrial permeability transition and oxidative phosphorylation. Br J Pharmacol. 1997 Aug;121(7):1295-300.
Törnevik et al. Cytotoxicity of 3'-azido-3'-deoxythymidine correlates with 3'-azidothymidine-5'-monophosphate (AZTMP) levels, whereas anti-human immunodeficiency virus (HIV) activity correlates with 3'-azidothymidine-5'-triphosphate (AZTTP) levels in cultured CEM T-lymphoblastoid cells. Biochem Pharmacol. 1995 Mar 15;49(6):829-37.
Cherrington et al. Kinetic analysis of the interaction between the diphosphate of (S)-1-(3-hydroxy-2-phosphonylmethoxypropyl)cytosine, ddCTP, AZTTP, and FIAUTP with human DNA polymerases beta and gamma. Biochem Pharmacol. 1994 Nov 16;48(10):1986-8.
Carroll et al. Sensitivity of HIV-1 reverse transcriptase and its mutants to inhibition by azidothymidine triphosphate. Biochemistry. 1994 Mar 1;33(8):2113-20.
Robbins et al. Enzymatic assay for measurement of zidovudine triphosphate in peripheral blood mononuclear cells. Antimicrob Agents Chemother. 1994 Jan;38(1):115-21. PubMed PMID: 7511360;
Pokholok et al. Interactions of the HIV-1 reverse transcriptase 'AZT-resistant' mutant with substrates and AZT-TP. FEBS Lett. 1993 Jul 5;325(3):237-41.
Chen et al. Selective action of 4'-azidothymidine triphosphate on reverse transcriptase of human immunodeficiency virus type 1 and human DNA polymerases alpha and beta. Biochemistry. 1993 Jun 15;32(23):6002-10. .
Nickelet al. Interactions of azidothymidine triphosphate with the cellular DNA polymerases alpha, delta, and epsilon and with DNA primase. J Biol Chem. 1992 Jan 15;267(2):848-54.
Heidenreich et al. Inhibition of human immunodeficiency virus 1 reverse transcriptase by 3'-azidothymidine triphosphate. Eur J Biochem. 1990 Sep 24;192(3):621-5.
König et al. Azidothymidine triphosphate is an inhibitor of both human immunodeficiency virus type 1 reverse transcriptase and DNA polymerase gamma. Antimicrob Agents Chemother. 1989 Dec;33(12):2109-14. PubMed PMID: 2482702;
Reimer et al. Effects of suramin, HPA-23 and 3'-azidothymidine triphosphate on the reverse transcriptase of bovine leukaemia virus. Acta Virol. 1989 Jan;33(1):43-9.
Balzarini et al. Alpha, beta- and beta, gamma-methylene 5'-phosphonate derivatives of 3'-azido-2',3'-dideoxythymidine-5'-triphosphate. Correlation between affinity for reverse transcriptase, susceptibility to hydrolysis by phosphodiesterases and anti-retrovirus activity. Biochem Pharmacol. 1988 Jun 15;37(12):2395-403.

&copy Sierra Bioresearch, Copyright 1980-2022 All rights reserved.